It's Monday – Leap Day 2016. I am ever so grateful for an extra day. What's the memo?
Well, in the
NEW
department that
Sian @FromHighInTheSky
is interested in – I have finished reading these new books this month: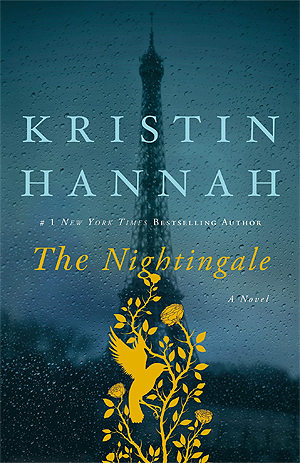 I usually don't read books published so recently as The Nightingale, but I am glad I did. I gave it 5 stars; I bawled like a baby at the end. 3 stars to All The Pretty Hearses, a cozy bed and breakfast mystery, by a mystery writer new to me. The 26th installment in a series, loaded with references to earlier mysteries that readers of previous installments could appreciate, annoyed me in their plentitude. The humor wasn't humorous enough; the mystery was so-so.
Better Than Before, the book club selection over at Simple Scrapper, is the first "self-help" book I have read in ages. I am not a big fan of self help books, believing they could impart the same information in 10% of the space. This one was better than average, though I am not quite finished and have yet to act upon the information. I enjoyed the monthly book chat over at Simple Scrapper, which is open to non-members too. We discussed how the concepts affected our scrapbooking.
Yesterday, I puttered in the studio and listened to this music. I found out about Matthew West online, don't remember exactly where – but probably from a scrapbooker. Months ago, I had also hunted down a couple of older George Strait CD's that I didn't own yet. Take note that while compilation CD's of bestselling songs are great – sometimes the lesser known ones on individual albums may ring a stronger bell. I found several such gems on these.
Speaking of yesterday, Sunday, I confess we skipped church. I swear it was hubby's idea (and I don't often get to blame him.) We were pooped from 2 more days spent at his aunt's house, along with his brother. Remember that corner we turned last time, I think we've doubled back!!
In all honesty, we have accomplished a lot – pulling everything out of closets and furniture – including all her Christmas stuff. You can't see the twenty flats of Hallmark ornaments, new in the box, that have been sorted and are sitting on the sofa to the left. The fellas even tackled the attic.
Near the end of the day, I found this reflective, glow in the dark trouble sign for the car in the utility closet. It sums it up – no wonder there were trips to 2 separate liquors stores! For boxes, people, boxes! What were you thinking? With just one more closet and chest of drawers to go, plus the sparsely populated basement – I think we can finish in one more trip. Then on auction day we can sit back and watch the auction workers haul all those boxes out to the back yard and sell the heck out the them.
While the fellas were breaking their backs, bumping their heads, and straining their shoulders, I stopped and snapped a few pictures.
Here is an old child's scrapbook. There is another one I want to photograph as well, because it will tie into a scrapbook page I am planning about his aunt. I almost brought it home, but the pages were really, really fragile, so I thought better of it.
I like the look of these supplies that children and scrapbookers might use. The date stamp is from the 1970's.
I like the Finish The Story feature in this children's magazine from 1962.
Some things that ladies needed back in the day: hats, calling cards and a fancy fan. And, of course, I'm becoming obsessed with saving her buttons, and some bonus sequins too.
This is just a sampling, of what I uncovered in plastic boxes, envelopes, cardboard boxes and cellophane bags. I began rescuing a few little clear plastic snap tight boxes too. Of course, in days gone by, folks were scrupulous about reusing packages for storage, even if it was cracked and needed to be held closed with a rubber band. We recycled 2 large kitchen bags of plastic margarine tubs and other containers. There is a lesson buried in there about striking a happy balance.
While I didn't keep all the plastic pill bottles we came upon, I did latch onto this glass one (on the left) as a memento. We uncovered a box of more modern glass bottles (on the right) with plastic lids that sis-in-law will turn into some kind of crafty wonder.
Speaking of crafting, tomorrow is the first of March, look for a new
Counterfeit Kit Challenge reveal
and the beginning of
Calvinball 2016 at Get It Scrapped
.